Maruti Suzuki - Kizashi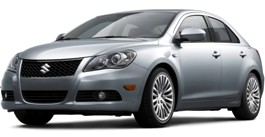 Recently, Maruti Suzuki launched luxurious sports sedan Namely Kizashi (Kizashi is a Japanese word meaning prelude and signifies a "sign of good things to come"). It has got perfect blend of European taste and Japanese quality. Maruthi desires to target D segment with its kizashi. It is mainly targeted for those who want lifestyle enjoyment and for driving freaks.
It is Mid-size sports sedan car and looks very attractive with its U shape upper and lower grille, foglights and headlights etc. The car looks very elegant form both front and rear angles and comes equipped with all luxuries features. Overall the vehicle is a complete package of qulity features and powerful engine with stunning exteriors and interiors. The interiors are very spacious and roomy with leg room space with other storage area. Maruti Kizashi is priced between 16 -18 lakh and with a fuel efficiency 12.45/ltr.
The design concept was based on a charismatic athlete in motion that typically characterized by visibly strong presence, strength & power and with a body honed for victory.
Certainly, Maruti Kizashi will give huge competition to the Skoda Octavia, Corolla, Toyota, Honda Civic and the Chevrolet Cruze.